Guide to New Hatco Products From This Year's NRA Show
It was a whirlwind! The highly anticipated National Restaurant Association's (NRA) annual show just wrapped up in the great Windy City. The event is the NRA's largest of the year and featured thousands of vendors, tasty samples, up-and-coming restaurant technologies, relevant education and networking opportunities, and much more. It was an incredible smorgasbord of aroma, flavors, people and excitement. And that thrill was even more evident after a two-year hiatus (if you were there, you know what we're talking about). On the flip side, if you missed the fun in person or are simply curious about what new items were at the show — we've got you covered. Check out our roundup of the hottest new Hatco products showcased at this year's NRA Show.
Heat Lamps and Restaurant Lighting
Looking for equipment to briefly keep food warm and make a design impression at the same time? Hatco offers heat lamps that provide the two-fold benefit of a quick-turn heating space along with eye-catching aesthetic elements like customizable shades, mounts and canopy styles, colors and finishes. Ideal for cafeterias, bars, concessions, restaurants, cafés and a number of other applications, these heat lamps aren't your average one-trick pony. Not only can they keep food warm, but operators can also opt to forgo the heat and purchase a lamp with luminaire lighting only. What's more, the all-new shade designs and colors were released and they're creating quite the splash. The crowd agrees — these babies are a truly transformative option for heat lamp and restaurant lighting everywhere!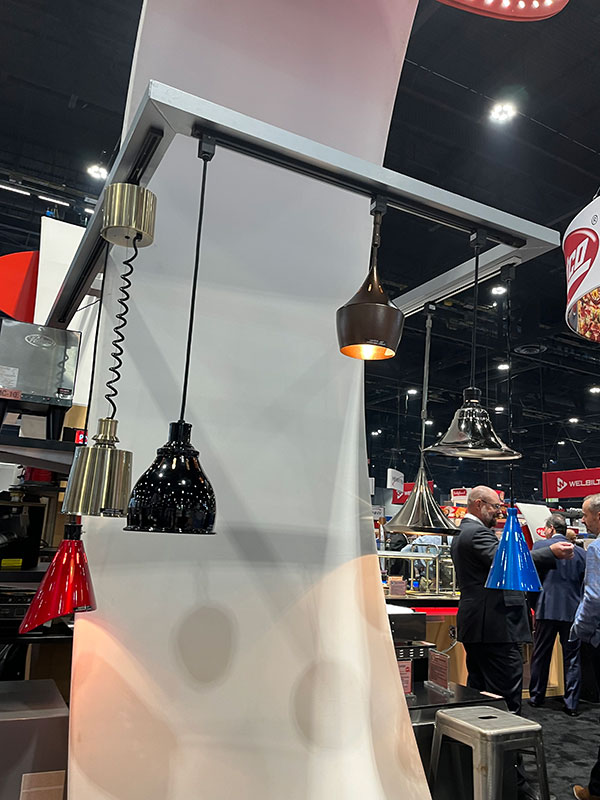 New shade options for heat lamps and restaurant lighting.
Pickup Pod™
It's pretty clear, pickup and delivery are the golden children of foodservice. Pushed into heightened popularity at the onset of the pandemic, the call for this convenience hasn't waned. As such, establishments want new and innovative ways to optimize their pickup and delivery processes — and automated pickup solutions don't disappoint.
Show attendees got a glimpse of one such solution with Hatco's Pickup Pod™. This pickup solution utilizes locked, insulated, ambient compartments to keep food safe from tampering. These units also bump up the convenience factor by leveraging SaaS technology, a shoo-in for money and labor-saving benefits like vendor-managed software, data analytics, point of sale (POS) system integrations and more.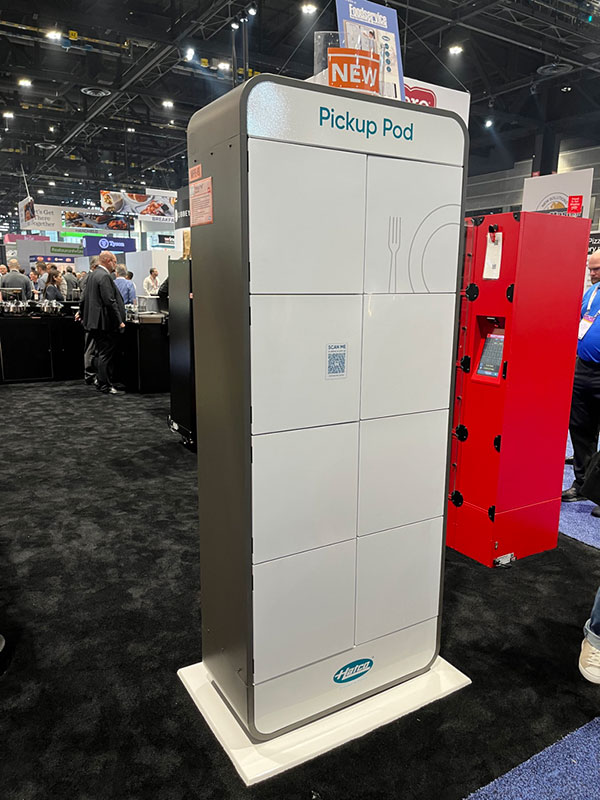 Food Lockers
Another hot ticket item at this year's show was Hatco's Flav-R 2-Go® Locker System. These automated pickup units maintain safe holding temperatures of 150 °F (66 °C) to 180 °F (82 °C) within each locker. Event-goers saw firsthand how these lockable cubbies keep food nice and toasty. Additionally, operators can easily turn the heat off for ambient holding needs. But, maintaining food temp is just one of the many benefits automated pickup solutions like these provide. They also help operators create a separate, staff-free area for pickup and delivery orders that's outside the flow of traffic. Customers and delivery drivers can go straight to the locker unit, punch in a code to open the appropriate locker, and grab their fresh and tasty to-go order. This simple process allows for shorter lines, reduced bottlenecks, better service, less staff and more satisfied customers.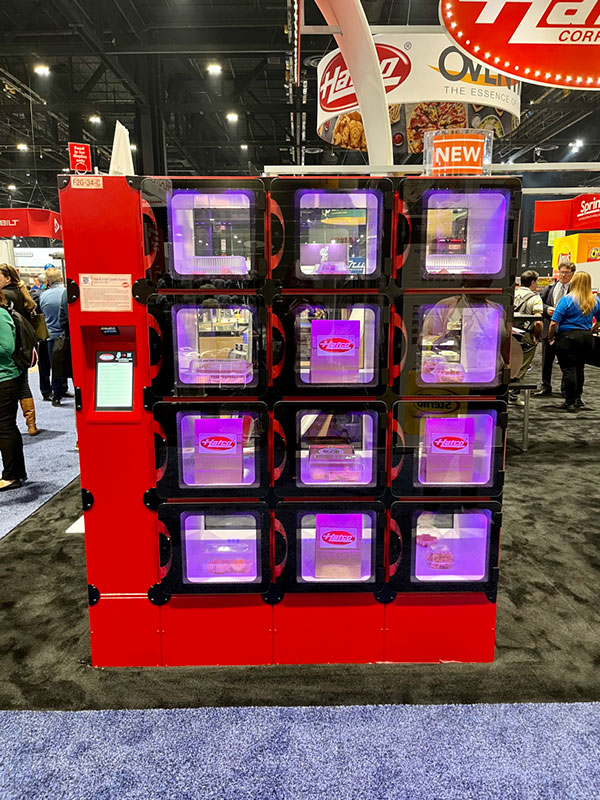 To-Go Heated Shelves
Automated locker systems aren't the only way to do pickup and delivery right. Hatco's thermostatically-controlled Glo-Ray 2-Go™ Heated Shelf was also on display at this year's NRA event. These units have a high temperature range of up to 200 °F (93 °C) and are designed to slow the cooling process of packaged to-go foods, allowing operators to hold bags and boxes of food for up to 30 minutes. Additionally, their open structure design provides a convenient solution for both front- and back-of-house applications within any foodservice operation.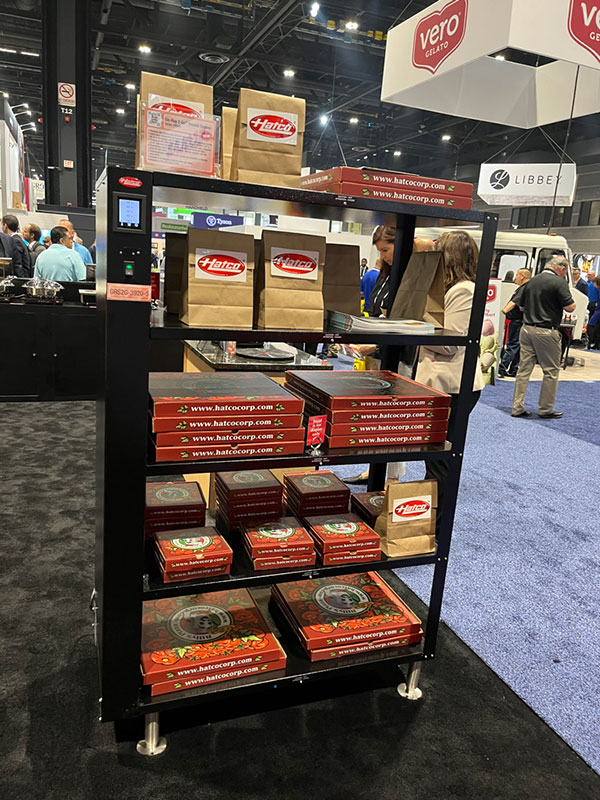 Sneeze Guards
It's inevitable. Diners scooping up a little tikka masala or chicken fried rice at the buffet are bound to sneeze, cough or talk with such gusto that every other patron will be thankful for the sneeze guards in place. And if the past few years have taught us anything, it's that sanitation efforts are key to keeping yourself and your customers healthy.
Enter: Hatco's elegantly designed Flav-R-Shield™ Sneeze Guards. As seen at this year's NRA Show, these shields come in a variety of shapes, sizes and configurations. Show participants viewed the array of possibilities from enclosed full-service, pass-over guards to portable, curved and adjustable options. Essential for food safety and sanitation, Flav-R-Shield Sneeze Guards are the ideal pick for any operation that utilizes self- or full-service buffet lines or serving stations.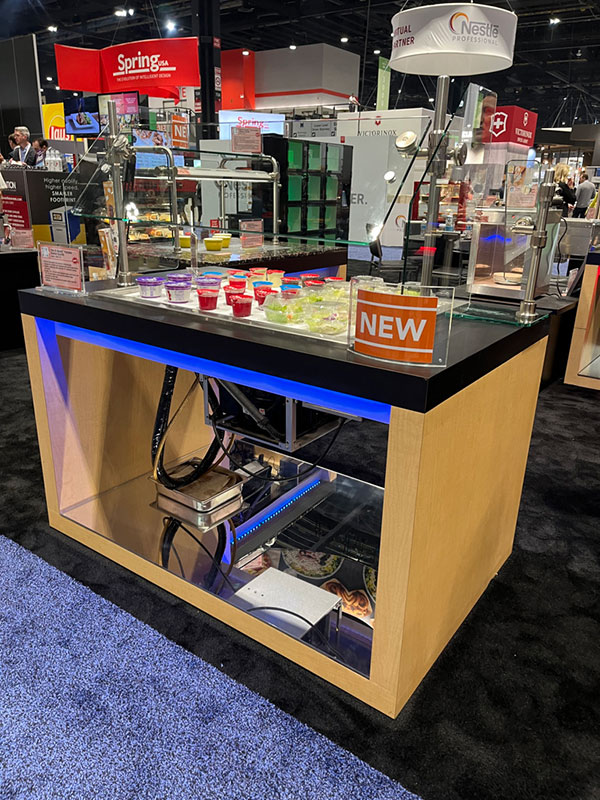 Heated Pizza Lockers
Time and again, pizza tops the list of the most popular foods in the world. To give a better idea of the intense love, in the United States alone, roughly 100 football fields of pizza get consumed — in a day. But the U.S. isn't the only place pizza is king. In fact, a whopping 5 billion pies are sold each year worldwide. That's a lot of dough and endless toppings. But how can operations improve pickup and delivery while keeping each pie hot and fresh?
This year's NRA Show attendees got their answer when they were presented with Hatco's Flav-R 2-Go® Pizza Locker System. These units are part of Hatco's automated locker series, but since pizza is, well, pizza, it gets its own unit that's perfectly designed to hold multiple hot pizza orders. These pizza pickup solutions (while they have different shaped lockers) work much like the other Flav-R 2-Go locker systems mentioned earlier. Customers simply enter a code on the illuminated touchscreen display — and just like that, the correct door opens with delicious pizza ready to go. Now, that's amore!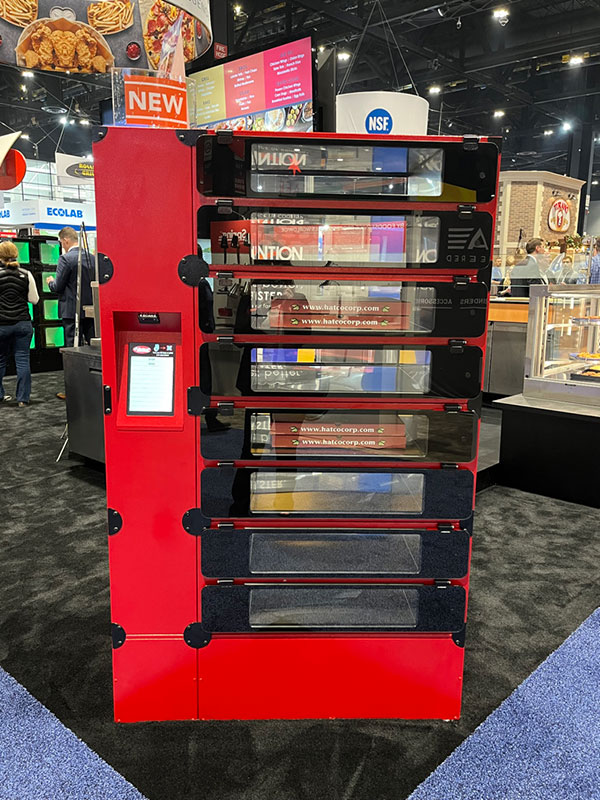 'Invisible' Induction Warmers
If you think induction technology is "magic," hold on to your seat — there's more! This year's NRA Show welcomed the Maskerade™ Undercounter Induction Warmer, a new induction warming solution that safely heats pans through a natural stone countertop (something that wasn't even possible a few short years ago). To give you a better picture, the warmer is installed under the countertop while a slip-resistant trivet sits between the countertop and serving dish. Your guests only see an attractive serving dish, and the warming work goes on below the counter — incognito.
However, beauty is only countertop deep, and there's more to these units than just a pretty face. These high-quality warmers also have five power levels that warm and preserve the quality of a variety of foods. Additionally, they're equipped with Pan Sense Technology (PST) that only activates the unit when its smart trivet and a suitable pan (magnetic pans with ferrous content) are present. Incorporate these bad boys in hotels, casinos, catering events or wherever you want to elevate your look.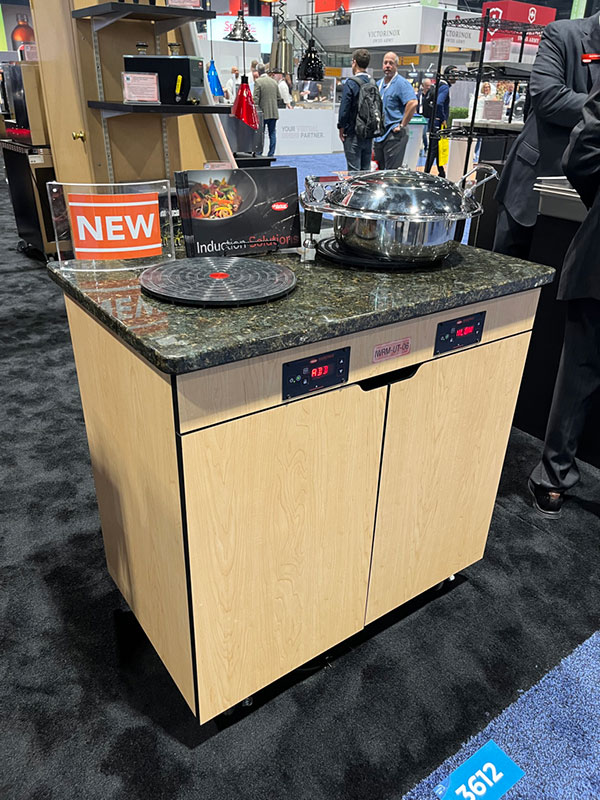 Flip Waffle Maker
Although waffles are traditionally a sweet dish, operations are waffling just about everything under the sun. From mashed potatoes to toasted sandwiches, almost any food is tastier as a waffle.
To achieve the best waffles (or waffled products), you need a quality waffle maker. That's where the Hatco/Suntec Flip Waffle Maker comes in. The exclusive heating element design allows for even heat distribution across the surface of the Teflon® coated, aluminum waffle plates. It can make an impressive 180° flip rotation and easily created the perfect golden waffles with a precise and adjustable temperature control. The sky's the limit for the benefits that waffles, or any waffled product, will bring to your menu.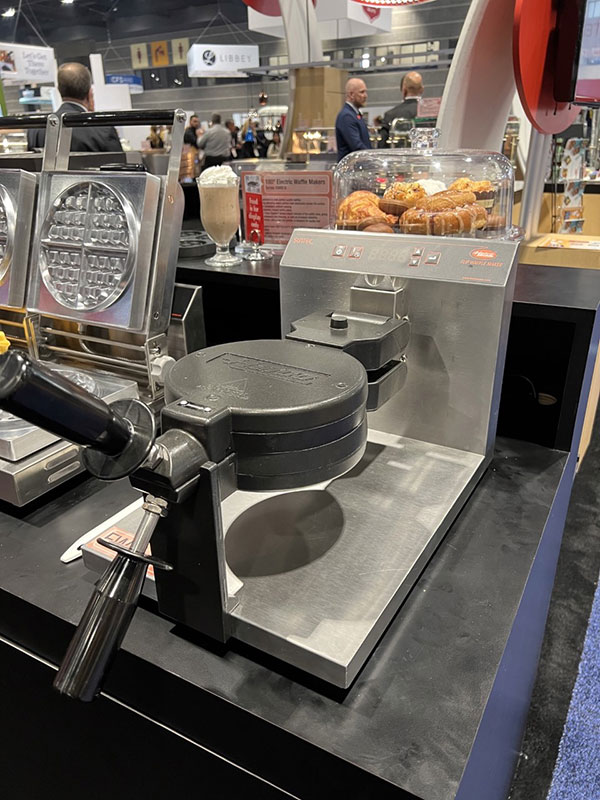 Heated Well Covers
Operators are looking for versatility, and Hatco's heated well covers can give them just that. These accessories easily and conveniently sit directly on top of modular/ganged heated wells, temporarily converting them into heated shelves. This year's show saw these babies transform self-serve buffet or cafeteria lines into the perfect heated area prime for housing pre-packed grab-n-go orders. Providing the best of both worlds, heated well covers can quickly turn a hot breakfast buffet in the morning hours into an afternoon heated shelf for to-go orders. Offering flexibility in kitchen and dining design, heated well covers won't disappoint.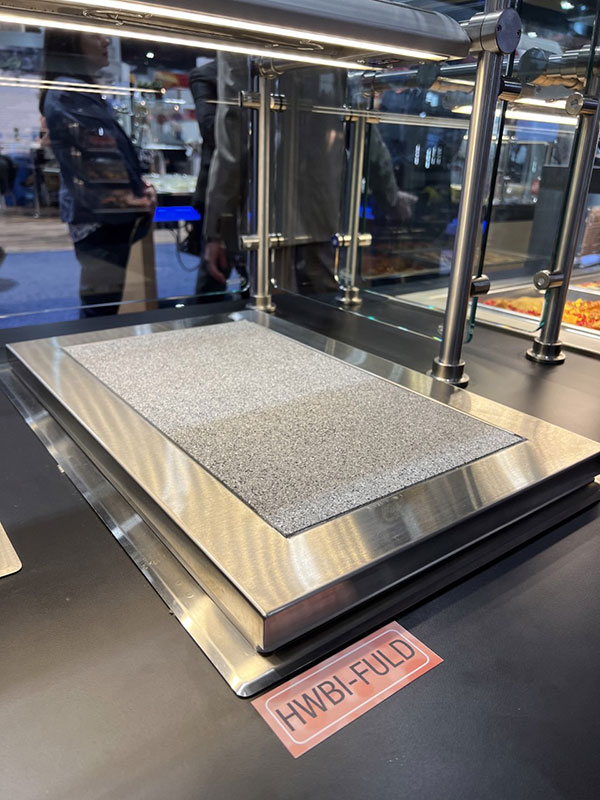 Nothing to sweat.
Don't sweat it! You might have missed out on the show or simply overlooked a few products while attending. Fortunately, you just got a frontrow overview of the most incredible products featured there. Interested in learning more? Or need help finding the best solution for your operation's needs? Find a helpful Hatco representative near you.
HRI. Innovative Solutions
HRI's consultative approach adds value and fosters a partnership with the buyer, as the purchase progresses through an entire project. How can we help? We offer a number of innovative solutions to help our customers make the best product purchase decisions, like TRY before you BUY, providing data on ROI and energy savings!
Contact us
and let us know what action you'd like to take on specific products. We'll respond quickly to answer your questions and or set up a demo or free equipment audit.
Don't miss a single important topic! SUBSCRIBE to our BLOG: