HotBlox cabinets offer a compact holding system with endless customization options to build your ideal holding solution. HotBlox cabinets come in three space-saving size options to maximize storage. These cabinets can be placed in narrow areas, stacked on top of other units, or placed on top of counters.
The smallest option is a narrow design that holds four pans and measures about 20″ W and 25.6″ D. This size perfectly matches operations with smaller holding needs and limited space. They can also be paired with other 4-pan units or a narrow 8-pan for stacking.
The narrow 8-pan 20″W x 25.6″D can be stacked with any other narrow units. In addition, Metro offers a wide 8-pan model measuring 25″W x 30.6″D for larger pans. This unit can be stacked with other wide 8-pan models.

All cabinets can be customized with clear or solid doors and varying caster options for transport. Each cabinet can be customized to include either an analog or digital control. The analog control includes an "always on" thermometer, making it ideal for transport.
The digital controller includes a display for humidity levels, built-in timers and alarms, HACCP data logging, and an easy-to-use touchscreen.
Each cabinet can be used for crisp or humid holding.
The cabinet has a built-in convection system for crisp holding that draws humidity up and releases it out of a rear vent as the front door vent pulls in the fresh air.
For moisture- retention holding a pan of water placed at the bottom of the cabinet allows the cabinet's radiant element to create humidity to keep food delicious and moist.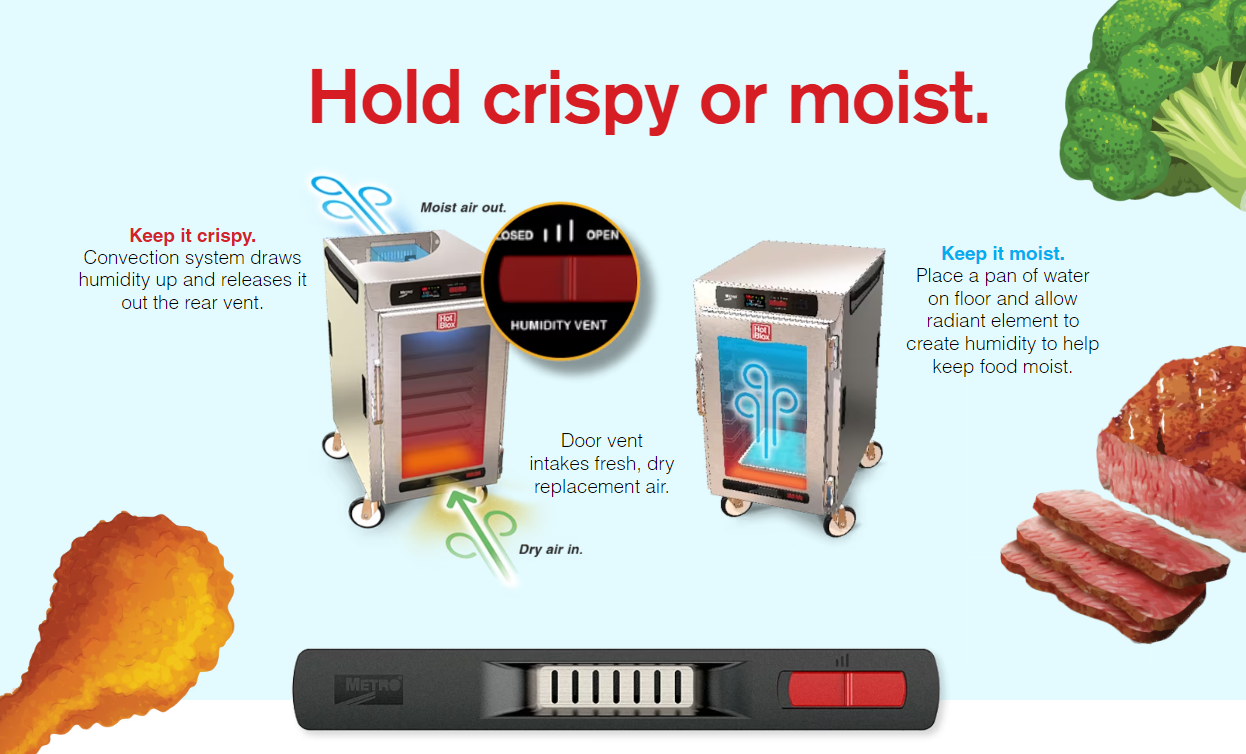 With restaurants needing various types of holding based on food options, HotBlox presents a better way to keep food delicious without taking up too much space.
Two HotBlox cabinets take up the same space as a traditional cabinet. The difference being, each HotBlox cabinet is customized to hold dishes to maintain quality.